Let me say, right at the start that I take zero credit for this recipe.
This past weekend my sisters and I  headed south to Williamston, NC for a get-away. Our destination was Big Mill Bed & Breakfast.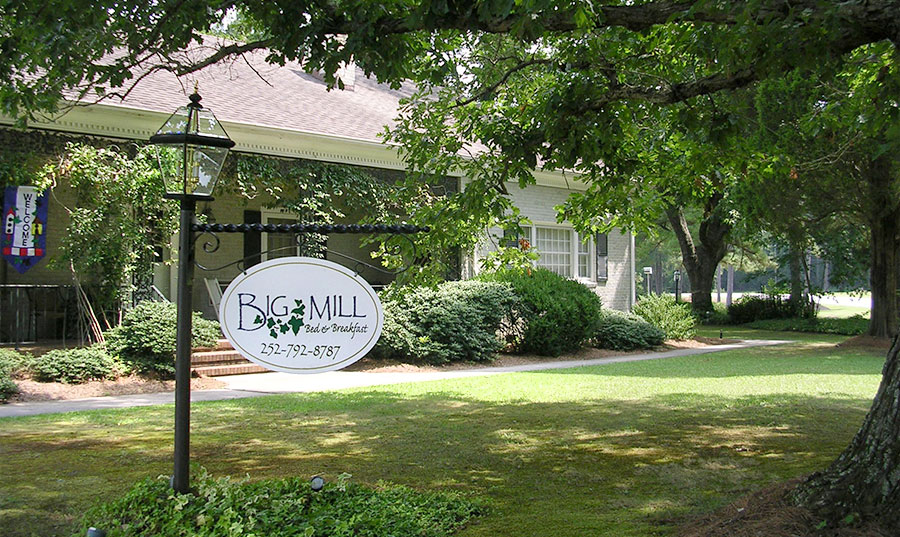 This was our first time staying at Big Mill, but once we met the full-of-life innkeeper, Chloe, and got a tour of the place (with a bit of history to go with it) we knew we were going to enjoy a long and fruitful relationship with Big Mill.
After we checked in, Chloe brought us a breakfast basket for the following morning. It included her super delicious and moist banana bread, quiche, freshly picked fruit (from the farm), orange juice, english muffins, fixings for coffee and three ziplock bags of homemade granola.
I have had my fair share of granola, but all three of us agreed that this was some of the best granola we ever had!
Maybe it was because it was a welcoming much needed treat after our long road trip.
Or maybe it was because it was the perfect balance of oats, to seeds, to sweetness.
Or maybe it was because it was simply homemade, making it feel extra special.
I think it was a combination of all of those things.
There were many aspects of Big Mill that we were excited to 'bring home' from the soft yellow themed bedroom – fresh and clean – to the colorful wine bottles decorating the tree branches, to the unique bird houses that adorned the properties.
Out of all those things I was inspired to do,  I knew the first thing I wanted to try immediately was Chloe's simplistic and delicious granola.
This recipe will make a lot of granola (11 – 12 cups) so have an air tight container you can keep it in. Enjoy it as a snack on it's on, with oatmeal, over yogurt and ice cream. The yummy possibilities are deliciously endless!
As always, Stay Encouraged & Be Blessed and please let me know how your granola turns out!
Recipe Note: I followed her recipe to a tee, except for a minor change. Instead of using almonds (the kids aren't a huge fan) I used walnuts and I also added cinnamon.

What You Need:

Kitchen Gadgets:

Wooded Spoon
Large Bowl
Small Bowl
Cookie Sheet(s)
Measuring Utensils (1 cup, 1/2 cup, 1/3 cup & 1 tsp)
Pam Spray

Ingredients:

6 cups old fashion oatmeal

2 cups raw unsalted walnuts, roughly chopped

1 cup raw pumpkin seeds

1 cup raw sunflower seeds

1 cup firmly packed brown sugar

1 tsp. cinnamon

1/8 tsp (or a pinch) of salt

1/2 cup raw honey (I used buckwheat honey)

1/3 cup oil (vegetable, canola or corn)

1 tsp pure vanilla extract

What You Do:
Preheat your oven to 350 degrees.

Grease cookie sheets (if you are using one cookie sheet, be prepared to cook in batches).

Warm honey (either in the microwave or on the stone), be sure to stir. If using the microwave it should take 1-2 minutes.

In a small bowl combine the oil and extract.

In a large bowl, stir together the oats, walnuts, seeds. brown sugar and cinnamon.

After the honey is hot add the oil and extract to it.

Mix in the honey mixture to the oats mixture until it is well combined. It will be fairly thick.

Evenly spread the mixture onto your prepared cookie sheet(s) and bake for 15 minutes.

BE CAREFUL and PAY ATTENTION. DO NOT LEAVE YOUR KITCHEN FOR ANY REASON (laundry, phone call, etc.) BECAUSE IT WILL BURN.

After about 8 minutes take it out of the oven and mix it around and put it back in to finish cooking.

After it is done, allow it to cool completely.

Transfer it to an airtight container.

This granola also freezes well!